There you are, a man among all those women. Knitting needles everywhere – and you've become familiar with those apple pies by now. However cozy it may be, the older gentlemen of Vitalis Vonderhof in Eindhoven sometimes feel the need for some real men's activities. Tinkering, talking and a silly joke every now and then, something like that. As a handy collective, the Vonderboys have restored a classic DAF 33, which recently became an eye-catcher on the roof of Vitalis Vonderhof.
Written by Gijsje Broekmans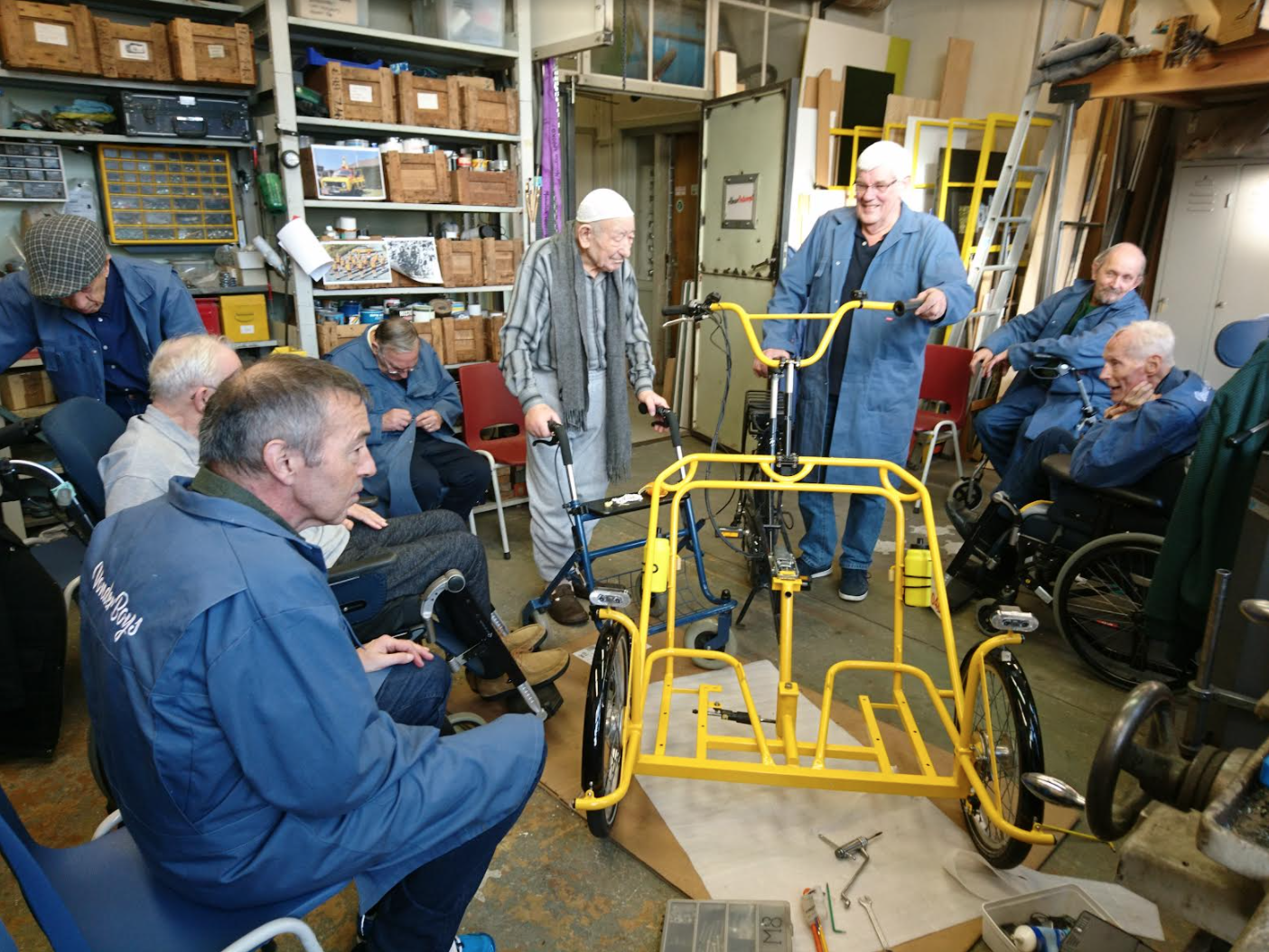 The male residents of Vitalis Vonderhof have been gathering as a club since 2019: the Vonderboys. As a group of about ten older men, they occasionally leave the Vonderhof residential center behind in order to do odd jobs in a workshop across the street, at studio complex TAC. This is no unfamiliar territory for many of the residents. Joppie, the dog of director Astrid Cats, likes to run off and finds it very cozy at Vonderhof. He smells the apple pies from afar and never refuses one. Whenever Jop is back at the door, activity supervisor Richard van Schaijk returns him to TAC. This is how he met designer and TAC resident Almar Sinte Maartensdijk. Soon after, the idea for De Vonderboys was born. Since then, the Vonderboys have reported weekly to Almar's workshop. Almar: 'These are normal working days. Everyone brings their own lunch box."
The first Vonderboys project consisted of the refurbishing and rebuilding of two bicycles. This was followed by a wheelchair bicycle and a tricycle, both of which are still used at Vonderhof. Then the Vonderboys proceeded to build their shack: a kind of mobile base with a toilet, so that the boys do not have to go home halfway through an activity. The shack is currently still in use, for example when the club goes fishing. After making the shack, a new key project comes into view, the Daf 33. Almar: 'We are always looking for new projects because we see real changes in the behavior of the men.' He talks about the friendships that develop and how a resident – even after moving to another home – still comes back for the club. 'The men are also becoming much more assertive at home, they are now doing all sorts of odd jobs in Vonderhof.
A number of residents, including women, were interviewed inside the Daf before it went up on the roof. Nienke Esther Grooten wrote poems for the interviews. In the car, the residents spoke about their driving experiences and other authentic Daf memories. Almar: 'We placed a photo screen around the car, which made it seem as if you were really on the road. The interviews yielded wonderful holiday stories. Austria, Italy, France – crammed up in the mountains with five children in the DAF."
Almar Sinte Maartensdijk graduated from the Design Academy in 2000 as a product designer and has had a studio at TAC since 2004. Due to the upcoming renovation of the TAC building on Vonderweg, he recently moved his studio to the new TAC studios at the creative business park Sectie-C in Eindhoven. He has a preference for personal, social designs. "I have always had a predilection for designing in public space and its social aspect."