TAC is one of the external locations to the Apprentice Master project, an initiative by Kunstpodium T in Tilburg. In the project, recently graduated artists from Dutch and Belgian academies – the Apprentices – are paired with a renowned artist – the Master – to work together in a trajectory to develop themselves, learn from each other and extend their network. This collaboration results in an exhibition. 'The First Page of a Non-existing Story' is the title of the sixth exhibition this season, in which Apprentices Noah Arends, Hans-Hannah, Manon Jeuken, Emmie Liebregts and Master Joris Suk come together.
Commissie Maison de Faux and Tenant of Culture: FAUX-EVER
Master of the exhibition is Joris Suk, one of the two forces behind MAISON the FAUX, "a creative studio posing as a grand couture fashion house". The Fictional House, a rough translation of MAISON the FAUX, is rooted in the great fascination of what's REAL and FAKE, a great sense of humor and self-mockery, combined with a deep love of fashion. The work of MAISON the FAUX is determined by its multidisciplinary approach; MAISON the FAUX aims to create work that finds the perfect synergy between many creative arts. Creating shows, plays, experiences, collections, spaces and much more, that invites audiences to be a part of the MAISON the FAUX universe.
The work of Noah Arends is a rendez-vous of fine arts with fashion (photography) and design. Sculptural works emerge from a process of abstraction in which form, texture and color of the source materials are given new context. This results in surprising autonomous works, playfully balancing between notions of the natural and the artificial, the two- and the three-dimensional, the quality of sight and touch.
Manon Jeuken creates scenes that raise the perception of being part of a bigger picture. What this bigger picture might be, remains currently unanswered. With the inspiration of an oasis, Manon plays with the concepts of reality and illusion. In the oasis, the mind can come to rest, roam in space, and play without the pressure of time.
Your collaboration in the Apprentice Master project had two sides: one the one hand the exchange before, a process that has started since your first introduction in October 2020; on the other the exhibition at TAC. How did the first process prepare you for your physical work period, working towards the exhibition?
Joris: In the first phase of the project we took the time to get to know each other and see what the artists needed at that moment. We soon found a common ground in an interaction and sharing information with each other, but more than anything we felt the need to create. This is what we are working on in the days leading up to the exhibition: spending four days with each other to create something entirely new. It is not about the final result, but about the freedom in the space and our material, as well as having four great days with each other.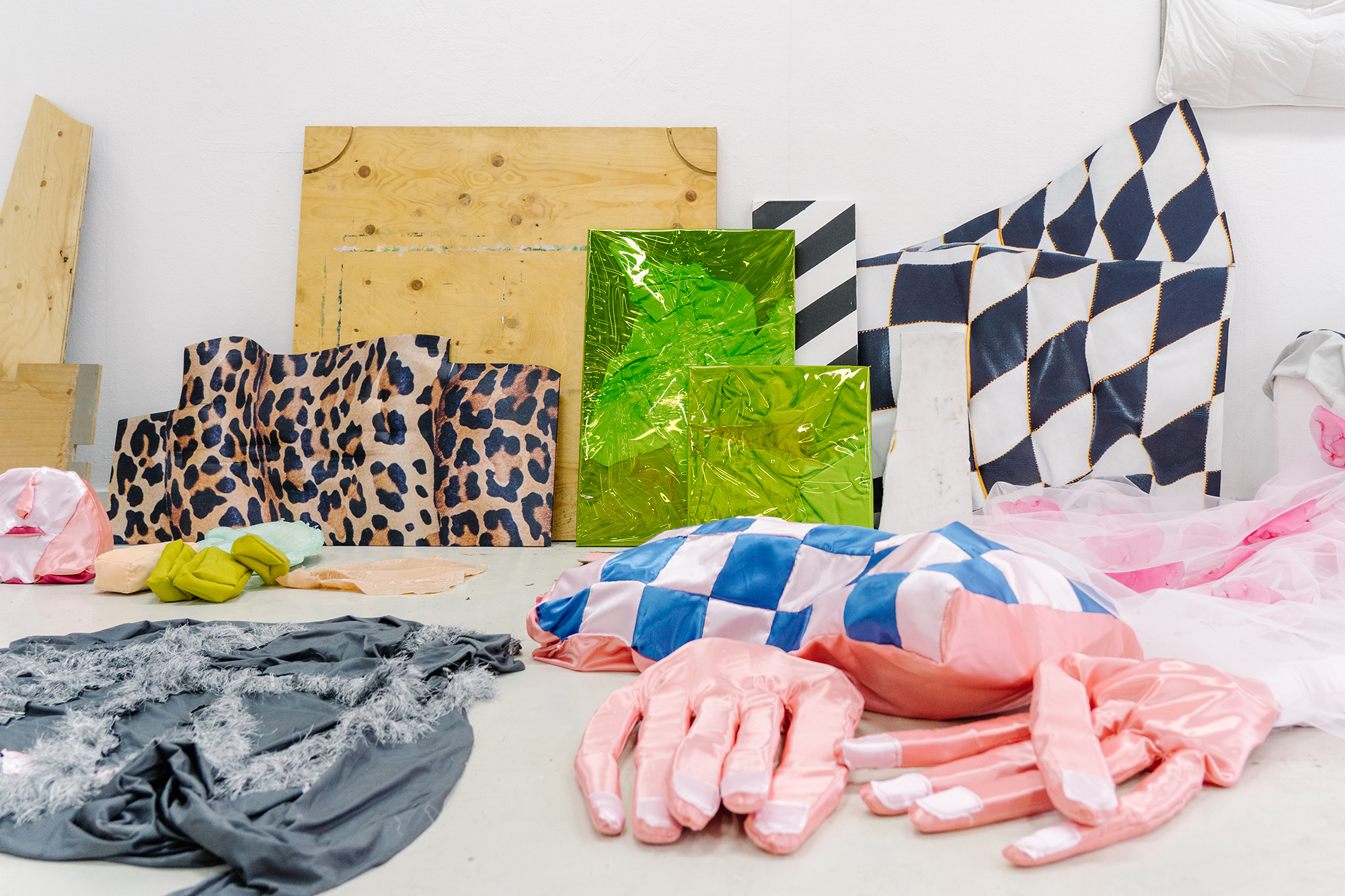 How did you prepare for the exhibition in TAC?
Manon: We came up with a title and concept to give us a framework to work in. We also made sure that we have enough materials to create new things. I think our material has guided us a lot in the making process of the exhibition.
Noah: We almost worked backwards in creating this exhibition. We sent out invitations and made a curatorial text for an exhibition that didn't even exist yet. It also ties in with Joris' work at MAISON the FAUX, which is quite literally faux: pretending to be a lot when in reality it is quite empty, a facade.
"I find the idea of separate disciplines a bit old fashioned..."
Joris, as part of MAISON the FAUX, you work very interdisciplinary. How do you experience this cross-over in this collaboration with a new generation of artists?
Joris: I find the idea of separate disciplines a bit old fashioned and no longer relevant to new makers. As MAISON the FAUX, we started as fashion graduates; slowly we let go of all the stigmas and started to develop ourselves more fluidly. Influences of all sorts of disciplines can be found in our work – also the visual arts. In this project I work together with four fine arts graduates, who all share a love for textile and create theatrical work. Their work questions the space and the viewer, and I see this as the connection factor in our collaboration.
What have you all learned from each other during the days of the installation and by creating work together?
Manon: To me, it is especially great to have each other to fall back on when you don't know what to do. When working with others, you can delay this moment because others almost always have a new idea. It gave me a lot of energy.
Noah: I have learned from Joris' mentality that there is no such thing as failure. When something doesn't happen the way you intended, another solution can arise. In my making process I am pretty reserved, but he is very intuitive and hands-on. It's great to have another mindset in a collaboration that makes you also shed light on your own process.
Joris: We live in turbulent times, in which 'ambition' has become somewhat of a strange term – both for me and for the Apprentices. What is left of the art world that you work towards as you go through art school? I noticed a great need for the physical experience with art, outside of the digital. Therefore I am even happier that we can physically get together and take pleasure from making together.
Manon: I think that is the most important thing about these days of working together – having fun.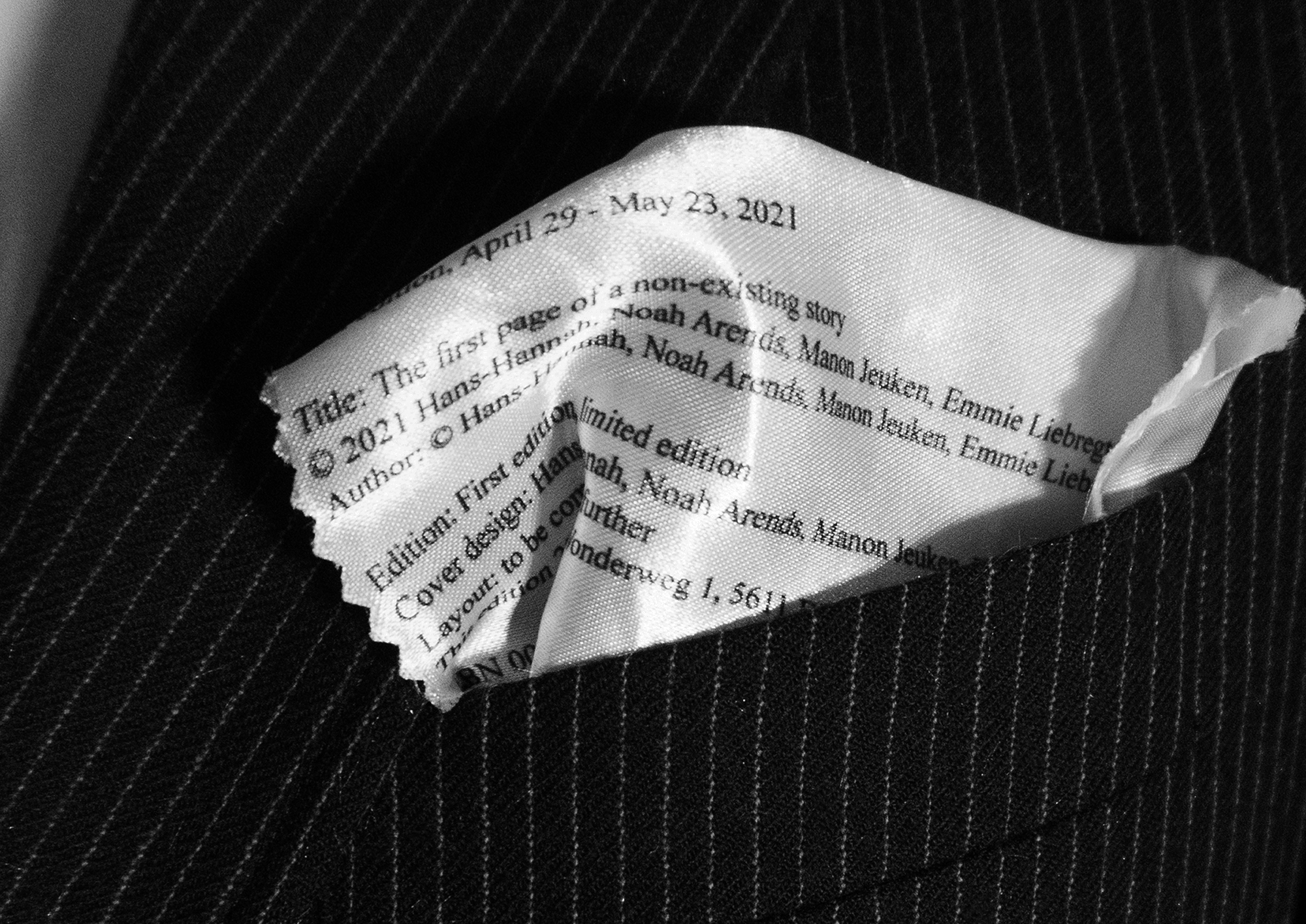 The first page of a non-existing story
Exhibition 'The first page of a non-existing story' can be seen until Sunday 23 May and can be visited by appointment every Thursday from 11 am-5pm. Send an email to visit@tac.nu to make an appointment.