On Saturday November 18th and Sunday November 19th, Eindje 0 Filter and TAC United will fulfill the shared desire to bring together innovative culture and creators in the live art project Hair Salon. From 16:00h till 21:00h the doors are open for you to take a seat in the waiting area of the barber chair and enjoy exhibitions and live performances. The heat is also on for those without a QR code.
Have a seat in the hair salon
In the Hair Salon, guests take a seat in Perle's barber chair for a treatment and a good conversation about everything that comes up when spending hours in a barber chair. In other words: life. It is never 'just' a quick visit to the hairdresser. Reserve your day or set aside quite a few hours: the Hair Salon is a place where stories are told and heard – with the necessary entertainment. Buy your tickets here.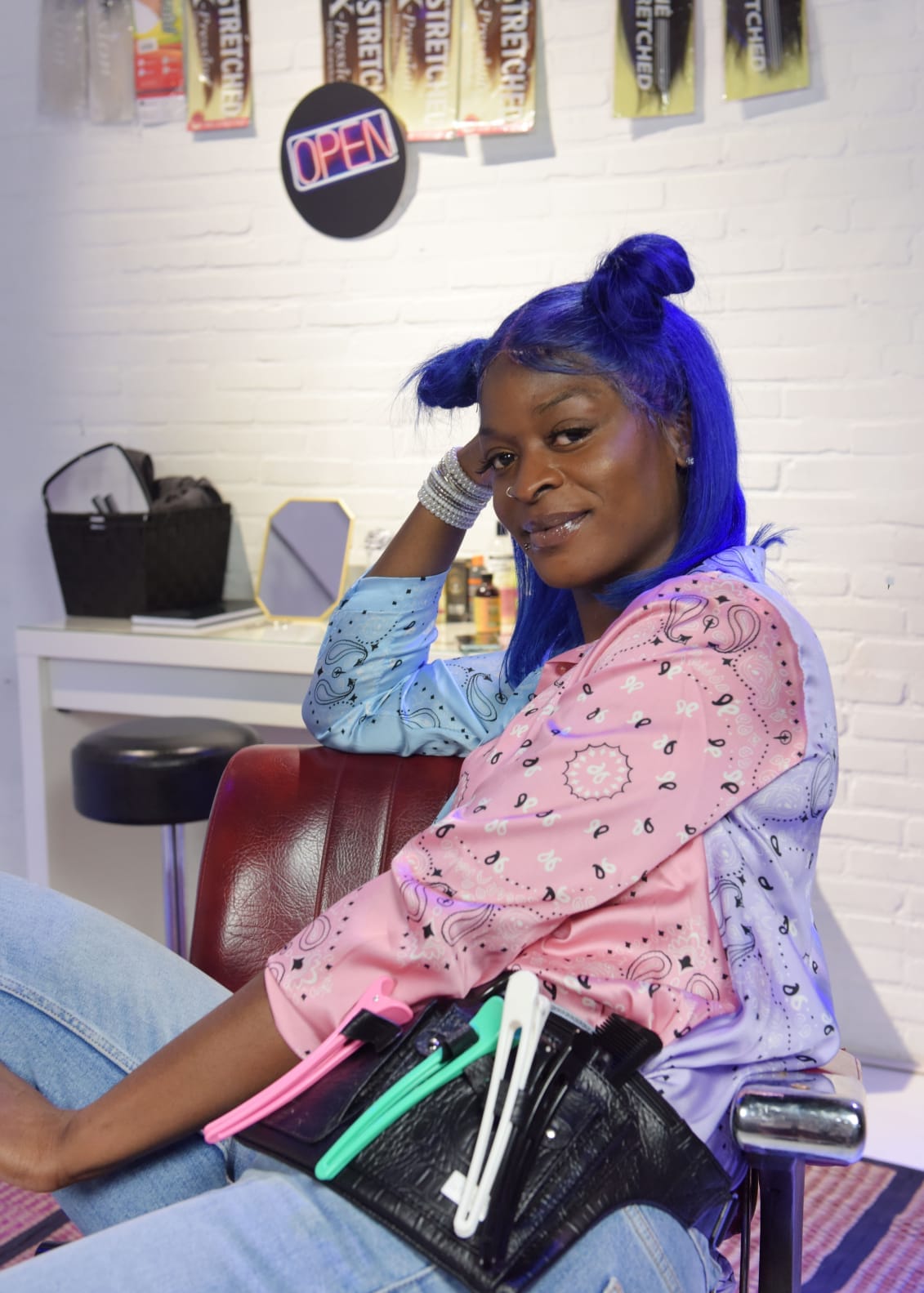 Perle puts her guests at ease and facilitates the conversation. Guests talk to her about their art, ambitions, dreams and their lives in relation to the theme 'Freedom of Being'. The basis is Afro art or hairbraiding, but connections are also made to Asian, Turkish and Arab cultures. Previously, entrepreneur Yetunde, rapper Cedje and storyteller and program maker Onias Landveld have taken place in the chair and in the waiting room. You can listen to recordings of these stories here.
On Saturday you will meet Onias Landveld (who previously sat in the barber chair) on stage for his play 'Kunu'. Silvia Martens shows her video art throughout the weekend and Jerry Afriyie is a guest in the barber chair aswell where he will be interviewed by Perle. In addition to these real life performances, you can also watch videos, photography, visual arts and animations in the waiting area. But the clothing and hair exhibition of Rita Pieternella also connects. The programme is slowly being announced. Stay tuned!
see you at the hair salon
On Saturday November 18th and Sunday November 19th the doors are open at TAC United for everyone who feels like a party. The weekend is filled with performances in the hairdresser's chair and waiting area of ​​the Hair Salon. Make sure to reserve a time slot between 16:00h and 21:00h.