Exhibition To Riso or Not is a result of a one week residency organised by Wobby.club. Six artists took their work to the next level in the graphic workshop of Make Eindhoven under the mentorship of Koen Taselaar. Together they discovered new ways to approach their art with printmaking techniques. We talked to organiser Marjolein Schalk and participating artists Isabel Cavenecia to get a backstage glimpse of the working period that resulted in an exhibition at TAC and to be repeated formule.
Marjolein Schalk is a Tilburg based chief editor, curator, art director and co-founder of Wobby.club. In addition to publishing a riso-printed magazine, Wobby is extending its reach with diverse programmes, such as residencies, exhibitions and book fairs.
Isabel Cavenecia is a visual artist currently living and working in Berlin. Her background lies in Fine Arts BA at KBK Den Haag, NL. Isabel is one of the exhibiting artists of the exhibition To Riso or Not.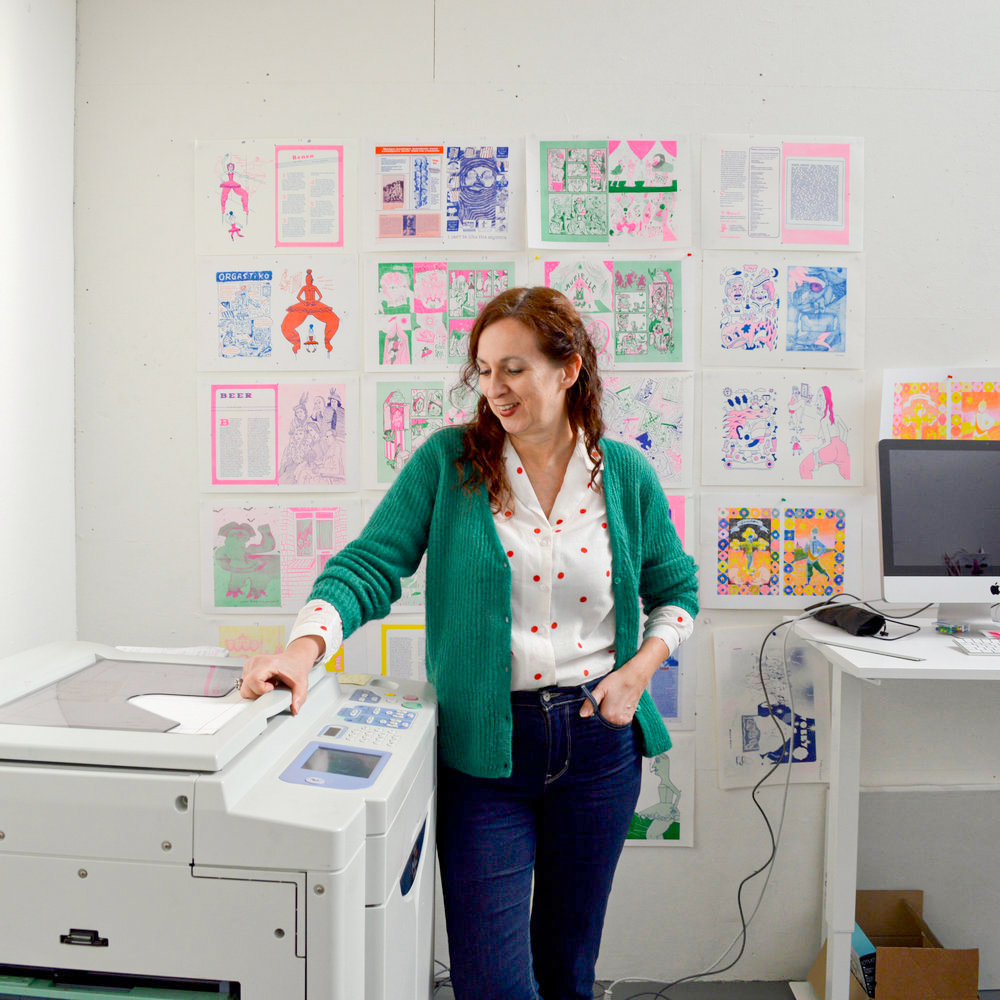 Besides being the organiser of Wobby.club, you are also an artist. How do you see this reflecting in your curatorial practices?
Marjolein: I founded Wobby.club in 2015 with two other illustrators as an artist initiative. All three of us felt the need to express ourselves and publish our work without any restrictions. By that, I mean to not be framed by the editorial illustration commission guidelines. In addition, I wanted to provide the same platform for other young artists and illustrators. That is how Wobby magazine was originally founded. Soon after, we started to collaborate with other organisations, mainly located in the North Brabant region. A good example would be the collaboration with the Graphic Matters festival in Breda.
With Wobby.club growing as an organisation, I gradually started to understand that my own illustration practice was decreasing. To be honest, I did not mind that. I enjoy working with other artists and initiatives focusing on different collaborative projects. I would not call myself an artist, although I did do one year of audiovisual art course. Prior to that, I was studying art education but I never saw myself as a teacher. All these different roles I had proved to be useful in the work I am doing in scope of Wobby.club. We also got the provincial subsidy, hence Wobby.club is becoming bigger, more structured and is publishing on a regular basis. Regardless, I am excited to start drawing again and make small books for myself. I would like to believe that I understand artists better with my background and have a certain sensibility towards them. To answer your question, I would call myself a curator, rather than an artist.
Being one of participating artists, how do you see this multi-identity that Marjolein is describing?
Isabel: Throughout the work period I really got the feeling that Marjolein was always encouraging and supportive. She was continuously pushing us to experiment and take the step forward. A big factor in this was also Koen Taselaar who mentored the graphic workshop. I really felt like a child in a playground where all is possible. In that way, you could feel Marjolein understands the artistic process and is very well in tune with it.
Marjolein: Indeed, experimentation, play and DIY really are the driving force of Wobby magazine. Most of the things we do, we do it ourselves and that gives us a lot of freedom and independence. In addition, it creates space for other artists to express themselves in a 'non-regulated' way. I often see illustrators being restricted while making an editorial commission based work. I, myself, found it really difficult to be able to keep my own style and individuality while working on commission and its frames.
"I really felt like a child in a playground..."
Continuing from an artistic perspective, you had decided to ask artists not to prepare for the work period at Make Eindhoven, is there a specific reason for that?
Marjolein: We are always curious to see what the artists come up with, so to say. The emphasis of these work periods lies within giving the space and time for exploration. In this context Koen was (and hopefully will continue to be) a great match. He has a really hands-on approach and is very experienced in working within several materials and techniques. It is always interesting to see all the new discoveries within an artist's practice. I am glad that these programmes stimulate their development and often lead them towards uncharted waters. Being there as a group, rather than individually, has a lot to do with that as well. The stimulation in that way is greater. Maybe it is comparable to an art school environment, saturated with discussion and feedback from peers. I found that the combination of fine artists and illustrators create a good dynamic in the context of the work environment.
Isabel: At the beginning we were all a little bit hesitant, but soon after we got comfortable with playing. I especially focused on silkscreen printing on fabric. I am interested in dream-like space in ambiguous environments which led me to be extremely intrigued with results that I got printing white on white. That was a starting point for me to focus on dialectics between visible and invisible, between real and surreal. I had also printed a fabric piece without ink, which resulted in a relief-print caused only by the pressure of the press itself. For me, it was really about pushing the possibilities of techniques and equipment that was available at the Make workshop.
Knowing your earlier practice, especially the digital video work, I can see the interest in spatial experience is recurring regardless of the media. How do you see your practice now, after the residency took place?
Isabel: I was always interested in space, but in a more organic way. That might be also the reason that after my fine arts bachelor I enrolled myself in an architecture course in Berlin. I would say my interest in the sense of architecture was focused more on how to create organic environments using mathematical orders typically found in nature. Soon I understood architecture was not the right path for me to follow. Instead, I have found that freedom in digital media, being completely unrestricted by reality. In creating these dream-like environments, I could ignore all the preconceptions of space, even gravity. After some time, I have begun to miss the materiality and tactile nature of working in the 'analogue' world again. Regardless of this switch, one of the recurring elements in my work is definitely water. It is a point of fascination for me in digital spheres. In the exhibition it manifests itself as an art object, a glass fish tank with a submerged textile bag. I have discovered that the white drawing printed on fabric is very clearly visible when submerged in water. That is how the parallels started to reveal to me, going from playing towards something more concrete. I guess either way, you just find something that resonates with you even if you are unprepared, at least not consciously.
"For me, drawing is the most pure way to make art."
The discipline of drawing is undeniably a leading visual language of Wobby and I have to say, the exhibition proves its tight relationship. How do you perceive this form of artistic expression?
Isabel: The residency was definitely a big factor for me to go out of my comfort zone and go back to the world of drawing. I have to say, sometimes I have a feeling that in the art world drawing is somehow not taken seriously. I liked that Wobby.club focuses on it and gives it a much needed platform.
Marjolein: I think drawing has always been a bit left behind in a sphere of artistic practices. I am happy that in the last couple of years there are more and more events and exhibitions focusing on the media of drawing. For me, drawing is the most pure way to make art. It is really simple but at the same time extremely direct and intimate, coming directly from your head to paper.
Isabel: Drawing is definitely very personal and honest. It is comparable to your own handwriting, hence very connected to your identity. I think drawing is also more fragile, not only in material way (the difficulty in preservation of paper, charcoal etc.) but also in the sense of revealing a certain delicacy of an artist. I agree with Marjolein that drawing is becoming more appreciated and that we are starting to see its power through this unique fragility or even femininity.
Marjolein: I can say that the conscious decision to format Wobby as a magazine has proved to work really well to present the intimacy of drawing. In addition, it is also relatively easy to riso-print which makes a sensible correlation. The technique itself is also very personal and it keeps the vibe of DIY. I like that.
To Riso or Not exhibition is on view until 11th of April 2021 and can be visited by appointment via visit@tac.nu.