Free entry
Vonderweg 1, Eindhoven
12 August – 20 August
Saturday and Sunday 14.00 – 19.00
With all the changes that are coming, including the reconstruction of our building, events and programme, we often overlook the importance of the present moment. In our tendency to reflect on the past, remembering TAC with pride, and anticipate the future, we want to stay in the 'now', 'Now is now'. TAC is here, we have what we have, and we are making the most out of it!
Embracing the philosophy of 'living in the now', ten artists are immersing themselves in the moment, redefine our spaces, transforming TAC into a temporary landscape of music and transdisciplinary works of art. After all, what is more present than sound?
During the two weekends in August, TAC presents several artist-musicians who will exhibit and perform within the unexpected spaces here at Vonderweg 1.
–
Four times per year, TAC presents emerging artists across all disciplines as a group exhibition. Connected in their process of thinking-acting-making, they together cast a light on the issues of our age.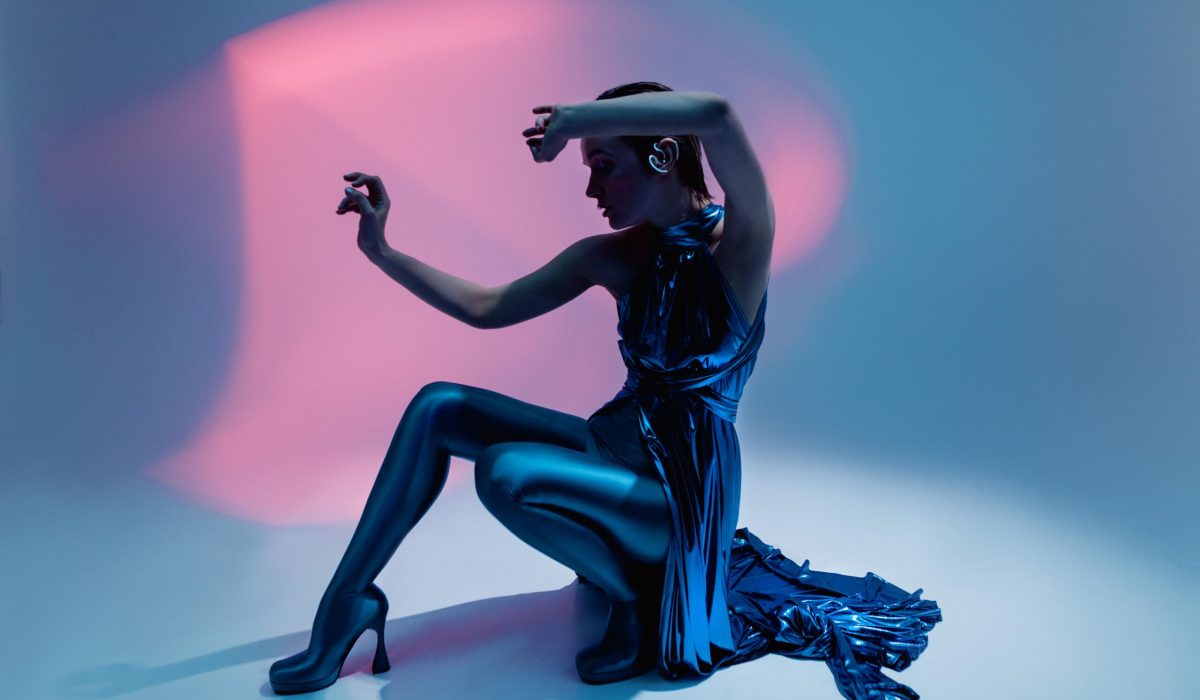 EXPO
Main entrance
Toilets
Bar & Chill area
 Performance area
MATHILDE NOBEL | EXPO | PERFORMANCE
Performance
Saturday 12 August
15.00 – 15.45
Studying fine arts at St. Joost shaped her ways of making music and making music shaped her visual research as well. Being interested in subjects like history and nature, Mathilde uses different techniques to create an immersive experience. By using oil painting, film, 3d animation and music, she touches different historical based techniques that creates a display of multiple layers. The research of presentation of work is an ongoing research that is part of this exhibition.
For this exhibition the Odio app can be used as an extra layer of digital experience, using headtracking to move around the composed sounds.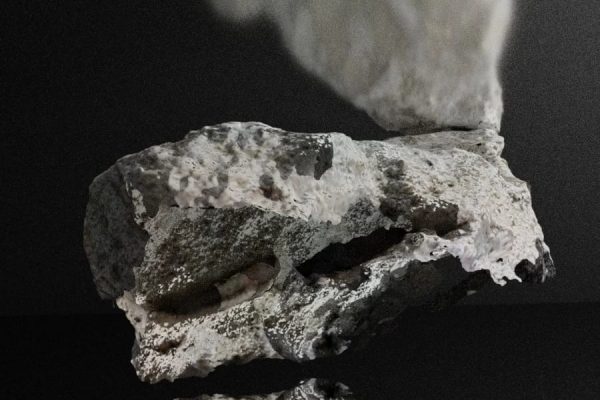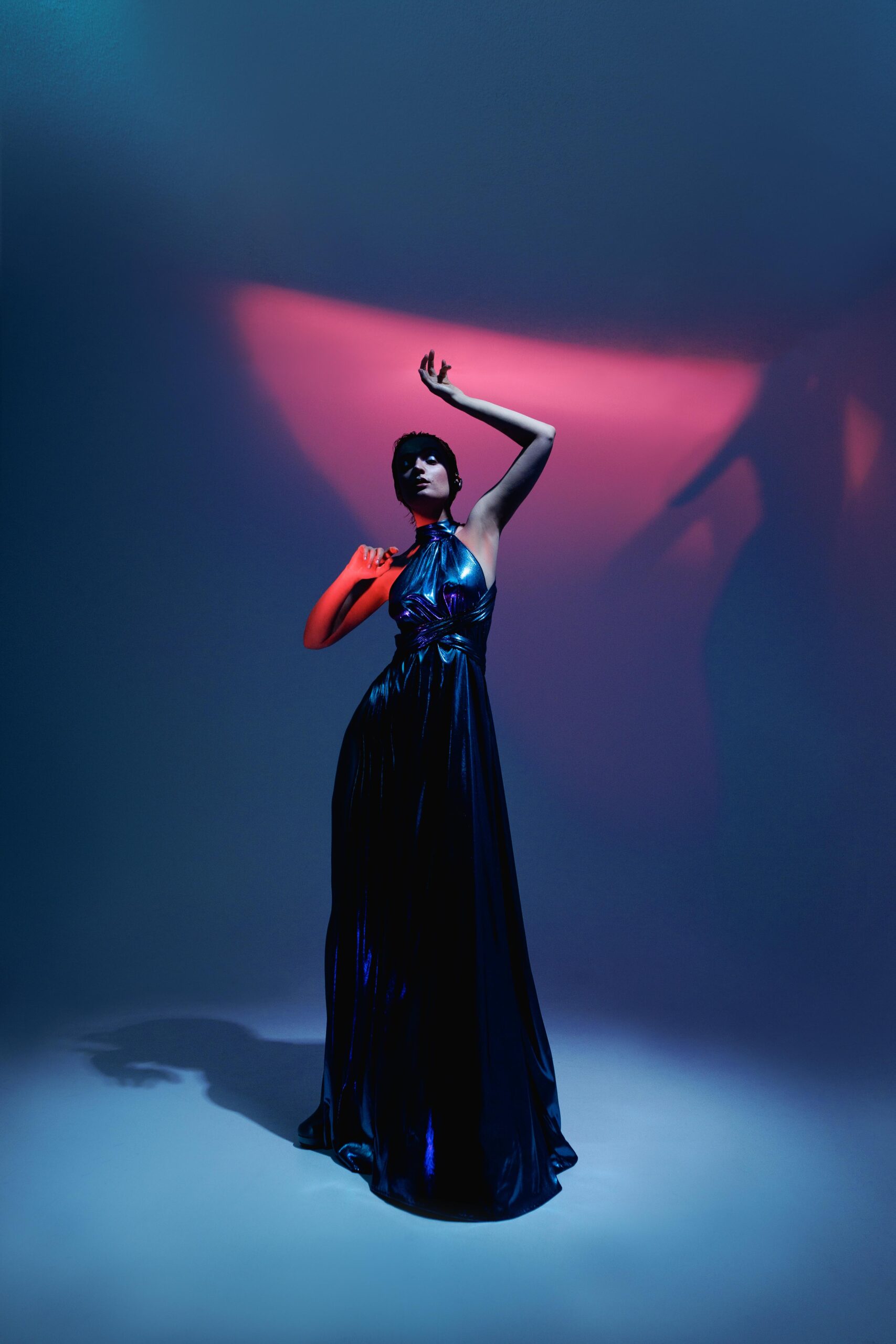 NATALIA KHARETSKAYA | RAZ VAN ISAC | PERFORMANCE
Natalia Kharetskaya
A vocalist, composer and producer born in Lithuania and currently living in
Rotterdam, the Netherlands. The choice of the stage name 'Cosmic Bride' was inspired by a quote of the world-famous composer Igor Stravinsky: "Music is the Bride of the Cosmos"; for he was who popularised Lithuanian traditional music world-wide. This name is a tribute to Lithuania and a long-searched artistic concept, which explores artists heritage and the idea of space as a persona.
COSMIC BRIDE: "A PERFORMANCE IN_____."
Saturday 12 August
17.30 – 18.15
The possibilities to tell stories though unique materiality of immersive
audio are awe-inspiring – it elevates the experience with the sensation of
being in orbit around the voice of the performer and takes the listener
into a literally spatial adventure. Cosmic Bride is pushing boundaries of
a concert experience with the integration of movement-based control
systems, which are altering the sounds of the string quartet and the
voice. The combination of vocals, pre-recorded string quartet and
interactive media are surprising for the audiences, which would like to
be introduced to chamber music though the prism of experimental pop
music, but wouldn't visit a classical concert. The sensor ring allows to
send commands through movement, control and shape effects through
natural interaction like a modern theremin. With wearable sensor
technology (such as midi sensor rings) movement becomes a musical
instrument and a new dynamic expression, transforming how music is
performed.
Raz van Isac
Raz is a multidisciplinary creative and lighting designer, that focuses on the connection between the natural environment and the human created one. By creating custom digital, technological and biological solutions, he explores culture, relationships between people and between humanity and nature.
Light gives the identity to each object, so it definitely influences us too. Drove by this discovery, Raz went on to start Hola Studio, a lighting design studio in the heart of Rotterdam, focusing on use cases for light in culture, society and living, with a focus on each and everyone's identity. Developing lighting spectacles for impressive artists and organisers such as Simone Bottasso, Jelle Roozenburg and the Bonsai Panda, and Bintang Manira Manik, North Sea Round Town and Batavierhuis. But also developing lighting sculpture and installations, such as the the Wave in Scheveningen or the recent Many and the Same installation with artist and dancer Latisha Sparks experienced in Zuid Boijmans. All these are just examples of ways that light can help build the occasion, space or individual's identity.
CINZIA NISTICO | PERFORMANCE TRANSFE/\R
Composer/ interdisciplinary artist
Her works often merge diferent disciplines together defying conventional
formats. At the core of her narration is a nihilistic and existential interpretation of the individual, stripped of its past, identity, belonging and memory. The tensions between the single and the multitude of the masses and society is also a focus in her works. She uses parallel forms of narrations in her work. She currently incorporates analog filmmaking for her perforative installations and music/physical theatre works.
She is currently member at Filmwerkplaats Rotterdam. She developed part of her research during her residency in Het Huis Utrecht.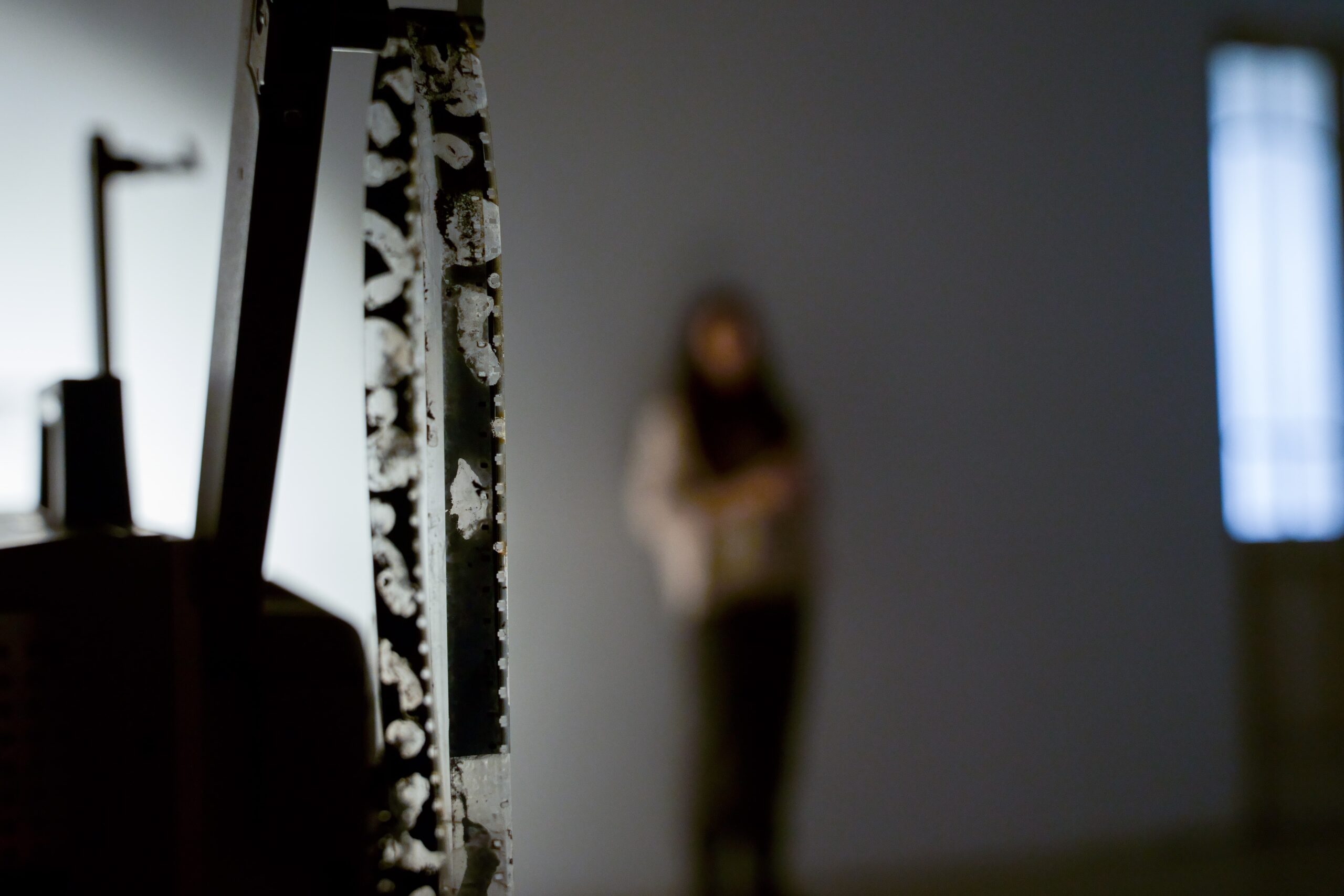 TRANSFE/\R
Sunday 13 August
15.00 – 15.30
A cinematic physical theatre performance inspired by an allegedly missing scene from the movie "Invasion Of The Body Snatchers" (1956 – dir. Don Siegel)
For one singer, trumpet, optical sounds, 16mm film projector, stylophone.
Concept/music/film/staging/projector/stylophone Cinzia Nistico
Singer/mime: Stephanie Pan
Trumpet Igor Iofe
Voice on film Stefanie Janssen
TRANSFE/\R is the outcome Nistico's year long research on 16mm film, optical sounds and the possibility to perceive film as a living creature on stage.
This project has an experimental approach to analog film and uses it mainly as a support to organic material growth (fungi), projections and as sound source. The original movie "Invasion Of The Body Snatchers"describes the systematic replacement of a small- town's population by emotionless alien duplicates growing from seedpods. The clones' growth and the citizens' replacement happen while they are asleep. In the original movie, the process of substitution is never fully shown.
TRANSFE/\R is an imagination and abstraction of this "missing" scene and intends to unfold the clone's growth from fungi and subsequent replacement of its corresponding human. This performance opens a question about how we interact with forms of life diferent from our and which might upset our set of values. Are we ready to devalue our personal emotions? And what does it mean to live according to instincts which are directed to the survival of the community? The emotionless clones which in the original movie pose a threat to mankind, are here eventually unfolded as a possible resource. They represent simplicity and a catharsis that promises a renewed existence on this planet.
Cinzia Nistico's research and performances are supported by AFK and Prins Berhnard Cultuurfonds.
This project is also supported by Het Huis Utrecht, Bart Gallery and Filmwerkplaats Rotterdam.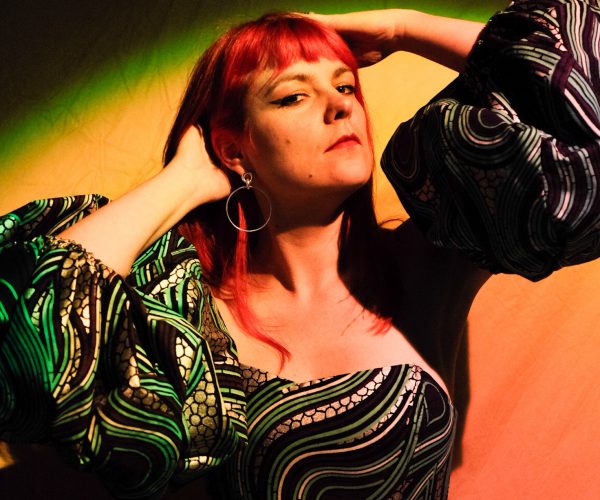 RIANNE WILBERS | JORNT DUYX | EXPO | PERFORMANCE
RHIANNIN
RHIANNIN is in-your-face, colourful, personal, absurdistic and sensual. Armed with her voice – singing, dancing and moaning – she confronts you and takes you into her inner world. She catches you in her web of image, sound and immersive technologies.
With her performance Bodyless, RHIANNIN invites you, in a personal yet funny way, into a colourful surreal world of sound and image. It is a journey in which she researches her own body and desires. In this quest, she mirrors 'being human' and all its facets to her audience
Bodyless is RHIANNIN's first performance at an expo and is a small 'sneak peak' to her first EP: Bodyless, which will be released at the end of September.
Sunday 13 August
16.00 – 17.00 | RHIANNIN
Saturday 19 August
17.00 – 17.45 | Lujo Asiático with Rianne Wilbers
UROŠ KOSTIĆ | PERFORMANCE OVERDRIVEN DREAMS
Sunday 13 August
18.00 – 19.00
Overdriven dreams is the moniker of Uroš Kostić, an ambient composer from Niš, Serbia. After many years of studying the potential of his main instrument and various other devices throughout work with several bands and projects, most prominently with the post-rock band There., he started utilizing those sounds in his solo work.
overdriven dreams seeks to bring the infinite sound fields of phantasmagoric dreams to life. In the process, he relies primarily on experimentation in the field of post-minimalism, drone, and ambient by working with 4-track cassette tape loops, field recordings, and reel-to-reel tape loops. His pieces are characterized by deep ostinato lines and meandering lush textures permeated with string instruments, pianos, and choirs. For his album "symphony // of // murmurings" which was released by the Netherlands label Slow Tone Collages he collaborated with one of the most prolific experimental artists Lawrence English as a mastering engineer.
In a short time, he established himself as one of the currently most active ambient musicians in the Balkan region, above all at numerous performances around Europe, where he shared the stage with well-known artists such as Pan-American (ex-Labradford), Alison Cotton, and Wojciech Rusin.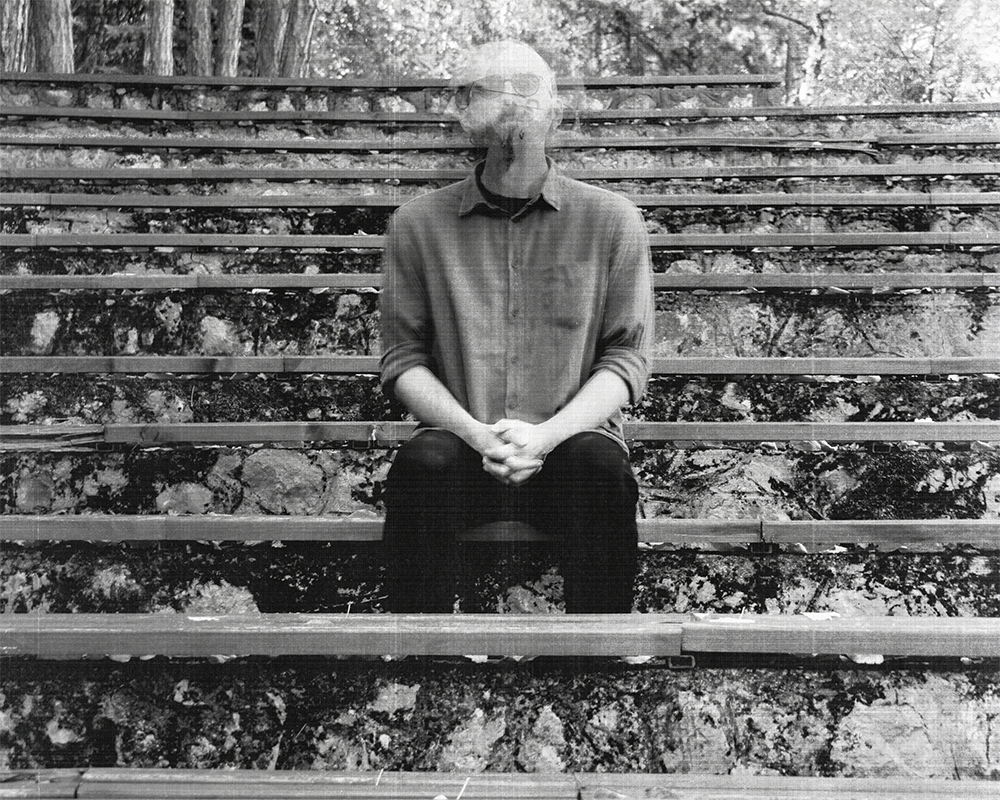 A smooth and long dive into the depths
of the sounds around us, analog effects
and tape world, otherworldly noises and
opaque, barely perceptible vibrations. 10/10 – NoiseMe
This is a prime 31-minute track, starting
slow and soft, building gradually.
Numerous sounds slowly layer themselves in;
some are voices and others are familiar
but not quite identifiable – somewhat musical
and somewhat otherworldly – Tuning to obscure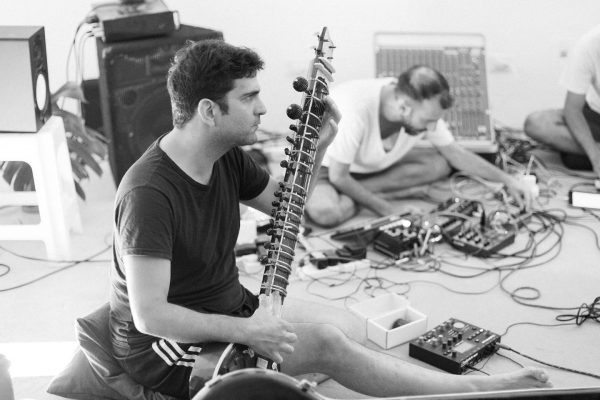 LUJO ASIÁTICO | PERFORMANCE
After Ashram European Tour | August/September 2023
Saturday 19 August
17.00 – 17.45 | with Rianne Wilbers
Lujo Asiático is based in Buenos Aires and has released 3 albums. The duo musical input goes from the most fluorescent techno to the ambient of Brian Eno, going through Boards of Canada, Aphex Twin and maybe even Tortoise.
In August 2023 they will travel to Europe to perform "After Ashram", their latest album: a session of sitar, sax, synthesizers, vocals under Bufo Alvarius influence and a Harmonium from 1907. The album draws on Eno's seventies
ambient period and saxophonist Pharaoh Sanders's free jazz.
CHRIS VAN DER LINDEN | PERFORMANCE HUMAN MOTIVES
Musical jack-of-all-trades Chris van der Linden creates experimental electronic soundscapes under the pseudonym Human Motives, which as a listener make you dream away. The atmospheric, sometimes abstract music is a melting pot of styles: ambient, minimal techno, music concrète and jazz. A former drummer and singer in several alternative rock bands, Chris has been focusing on a new instrument for a few years now: the modular synthesiser. The compositions are completely improvised live. Nothing is fixed beforehand, so both listener and artist both hear these creations for the first (and immediately the last) time. The same thing never comes back. Like drawings in the beach sand, everything is temporary and constantly changing. The tides come and go. Waves wash everything clean, making way for something new.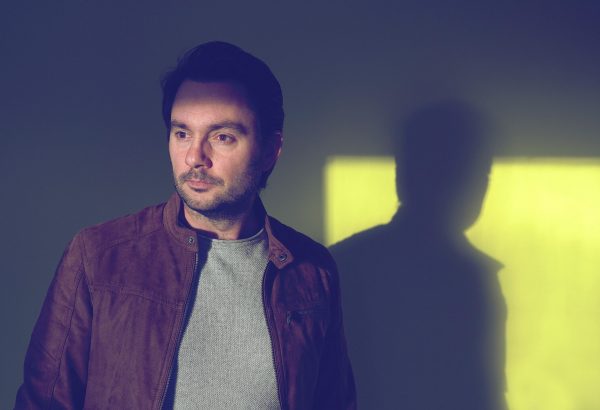 Sunday 20 August
15.00 – 15.30
17.00 – 17.30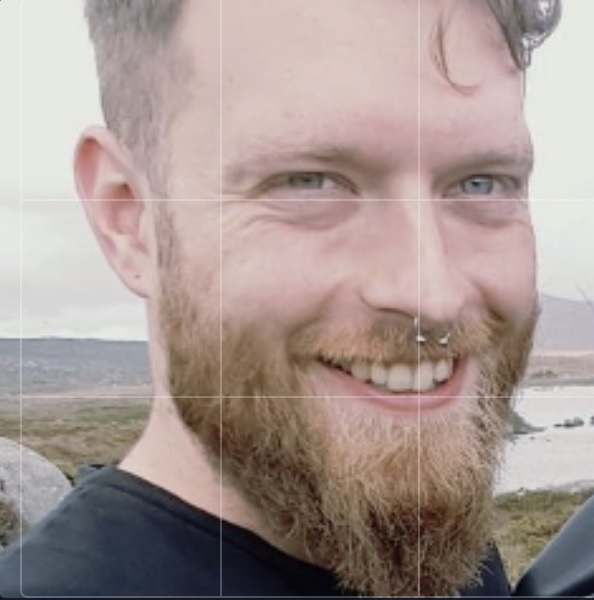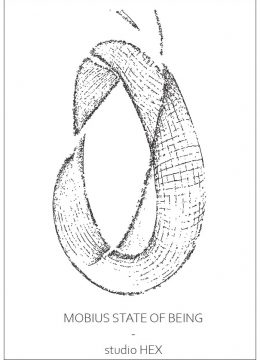 STUDIO HEX | PERFORMANCE MOBIUS STATE OF BEING
Sunday 20 August
16.00 – 16.20
Mobius state of Being is a medative performance that focuses on creating a real time auditive force field comprised of accoustic resonance, feedback and low frequency sonification of brain waves.
 Due to the real time generative nature of the piece the audience is invited to move around swiftly between the speakers and the performer paying attention to change of details in the landscape of sound that occurr because of blocking and reflecting the standing sound waves in the room. Everyone inside the force field becomes an active node and a strong relation between performer, space and audience becomes appearant. At the same time an element of friction occurs where the performer has to focus on going inside his interior whereas the deeper he goes the more the exterior space will represent him but will also try to distract him. This same element of distraction occurs when the audience is moving around, creating another layer within the emerging force field present in the room.
EVA SUSOVA | EXPO | THERE ARE WOUNDS WHO EMANATE VOICE
In somatic movement practises, we practise how to observe outside of the binary of good or bad and operate in the glitch between what you do and what does you. I am interested in this glitch; in the hybrid space that can't be dissected and "cognitised".
The work of Eva Susova expands from the practice of choreography and performance yet materialises not exclusively as such but also as sound, sculpture, writing, and installation.
She aspires to create multi-sensorial experiences through improvisational methodologies focusing on the entanglements between human and non-human bodies and their voice. The voice doesn't need S it is always plural.
Eva observes the world as a very polluted space. And with her work, she aims not to produce any more pollution in every sense of it. Eva prefers to source from existing materials or those derived from nature. These organic alternatives tend to decompose or rot. She studies these processes as catalyst methodologies for planetary change.
On this occasion, Eva likes to share with you the first manifestation of her ongoing research titled, "There are wounds who emanate voice."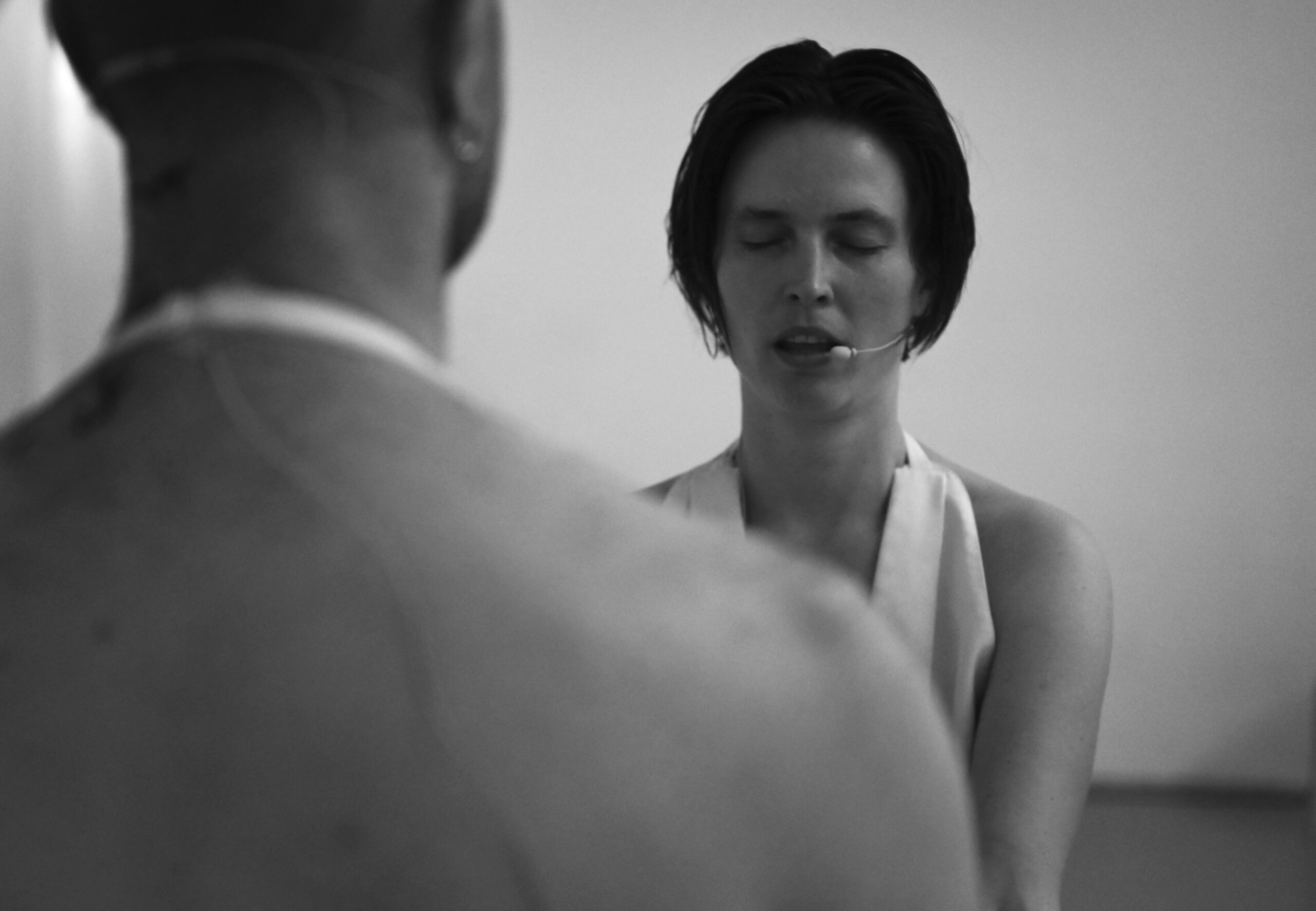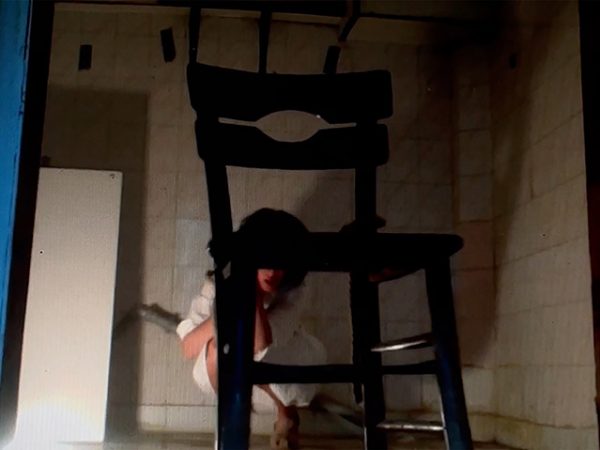 ZEYNEP KAYAN | EXPO
Interested in finding gestures that are connotative, restored behaviors, the action of invisible forces on the body through repetition in movement and sound. She is interested in the way things repeat, but never repeat in the same way. She is interested in the desire to repeat and to repeat to desire. She is  interested in exhaustion. She is interested in how things alter daily and separate gradually, in rituals, in orchestra, in inertia and movement. She is interested in dressing and undressing continuously, in the place that the personal occupies. She is interested in simultaneous composition on several planes at once, in talking at the same time together with someone else, in patience and temporary sameness. She is interested in the dance that goes nowhere, in concentration and uninterrupted contradiction. She is interested in anagrams, in going back to add "new" to the "old", going back to add "new", going back to "add", going back.
TAC
In TAC, we present the newest, coolest, funniest, most sincere emerging art from in and around the TAC community. That what we always did, but now several times a year. Full blown TAC. In full connection.
You are most welcome!